This shop has been compensated by Collective Bias, Inc. and LISTERINE®. All opinions are mine alone. #BackToBold #CollectiveBias 
Hi guys! Caitlin here! I have taken over the blog today to share with you how this college student prepares for school. I am a typical teen. I wait until the last second to leave for school in the morning! It drives my mom crazy! Please tell me you do this too? My mom hoped when I started college this would get better. Nope! If you feel me, I can help!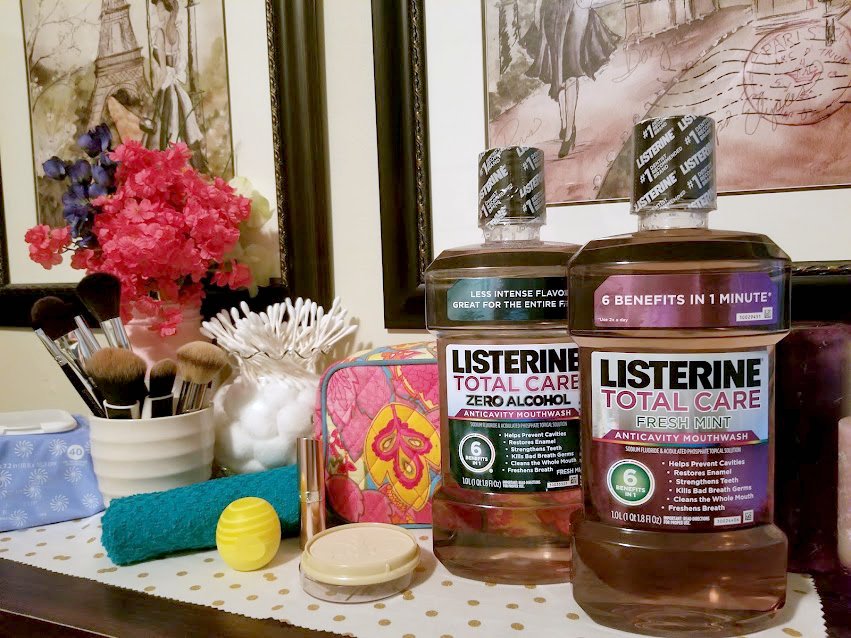 When I am running late in the morning, I still want to look and feel my best. Who wants to go to class looking like you slept under your bed, right?! I have a few beauty tips and tricks and time management hacks sprinkled in. You can get out of bed and be out the door before your mom loses her mind! When you are running late, here is how to get ready for class in just 15 minutes!
The Night Before Is Your BFF: I know myself. I am not a morning person. This means the more I get done the night before, the easier my morning is. I do my homework between classes, so I have more time in the evening (whew!) I get my outfit ready, backpack and lunch packed and shower after dinner. I even get the coffee maker ready and the timer set to go off when I wake up. Smart, huh?!
Sustenance: I am not a huge breakfast person. I usually grab a cup (or two) of coffee and a protein bar or a yogurt parfait before class. To save time, I will eat and drink while I get ready for class!
Hair Care: If you only have 15 minutes to get ready to leave for school, don't waste precious time on your hair. If you forgot to take a shower the night before, dry shampoo is a lifesaver! It is one of my favorite products! I don't have time to style or blow out my hair when time is tight. For shorter hair, use a cute hair clip to keep it in place. For longer hair, a messy bun or a sleek ponytail is the way to go.
Make-up: I don't wear much make-up, so this saves a ton of time. I use a make-up remover towelette to get off any make-up I missed last night. I put on a little moisturizer, foundation, a bright cheek stain, a bit of eyeliner and mascara. Boom! I am looking fresh and ready to face the day! Oh, and don't forget your deodorant! No stinky pits here!
Mouth Care: When it comes to how to get ready for class in just 15 minutes, don't skip this tip. Taking care of your mouth is not only a healthy habit but it gives you the confidence to face your day! I never leave the house without brushing my teeth. Or using my LISTERINE® TOTAL CARE FRESH MINT Anticavity Mouthwash. When I swish with my LISTERINE®, my mouth feels so fresh.
Every time I leave the house, my mom always tells me to go forth, do greatness and be bold! I love that woman! I am a shy nerdy girl, so I can use all the confidence I can get! When I use LISTERINE®, I know my breath is fresh and I have a healthy and clean mouth!
Mom gets our LISTERINE® TOTAL CARE from Target. We saved big time because Target has a great sale right now. When you buy 3, you get a $5 Target Gift Card. Don't tell mom, but I have it in my wallet right now! [The offer is good (6/29-9/9) and will be valid online and in-store.] Want me to make shopping even easier for you? See that first picture at the top of the post? Hover your mouse over each bottle of LISTERINE® TOTAL CARE and see what happens! Whee!!
Have you tried the LISTERINE® TOTAL CARE Anticavity Mouthwash? Check this out! When you use LISTERINE® TOTAL CARE you get six benefits in one bottle! No other mouthwash is more complete* than LISTERINE® TOTAL CARE Mouthwash! My mom said it is the #1 Dentist recommended mouthwash brand.
If our dentist recommends it, my mom will use it! I knew LISTERINE® TOTAL CARE FRESH MINT gave me fresh breath and it cleaned my whole mouth. What I didn't know is that it also gives me up to 7x greater fluoride uptake than ACT® mouthwash brand for strong teeth**, it helps prevent cavities, restores minerals to enamel and it kills bad breath germs.
Mom use the LISTERINE® TOTAL CARE ZERO ALCOHOL. She said the zero-alcohol formula cleans deep to kill millions of bad breath germs. Gross! Millions?! I had no idea! She said her mouth is healthier, with a less intense minty flavor. She also told me it offers a greater reach than brushing and flossing alone. Did you hover your mouse over each bottle of LISTERINE® TOTAL CARE yet? You better!!!
That means you are getting 100% coverage on and between your teeth and along your gum line. It also helps prevent cavities, restores enamel, and strengthens your teeth! Now THAT is BOLD you guys!! Now I can tell mom when she leaves to run her errands to go forth, do greatness and be bold!
When you are running late, how do you save time in the morning?
*Among OTC fluoride rinses
**In a lab study